Data Matrix Code for retail packs
The Data Matrix Code (DMC) was established when implementing the Falsified Medicines Directive (FMD) for medicinal products obliged by the directive. With this code, different labelling of sales packs is possible.
The product code respectively the PPN code contains all necessary data such as PZN, expiry date, batch and serial number for the pharmaceutical market in a machine readable manner.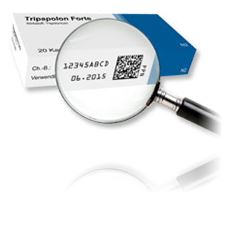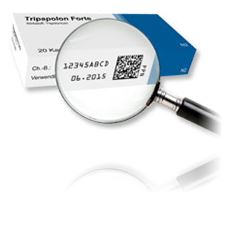 The advantages of coding the DMC are:
space-saving, the code uses only 10% of the space of a linear code
variable regarding data contents, the code can contain the product code, the UI (unique identifier) with all four elements needed for verification and data such as a URL with a product-specific link
internationally unique when the the PZN is embedded in a PPN or NTIN
The DMC can be pre-printed with fixed data contents such as the PZN and inline printed with variable data such as batch and expiry date onto the pack.
Further, more detailed information on coding of medicinal products obliged to verification, medical devices and other examples of use can be found in these documents:
PPN-Code Specification for Retail Packaging
Technical specification of PPN-Code